augmentation intercalaire torse
L'augmentation intercalaire torse est simple à réaliser, et quasiment invisible. C'est ma technique préférée pour ajouter des mailles, je l'utilise quasi systématiquement lorsque je dois faire des augmentations en cours de rang.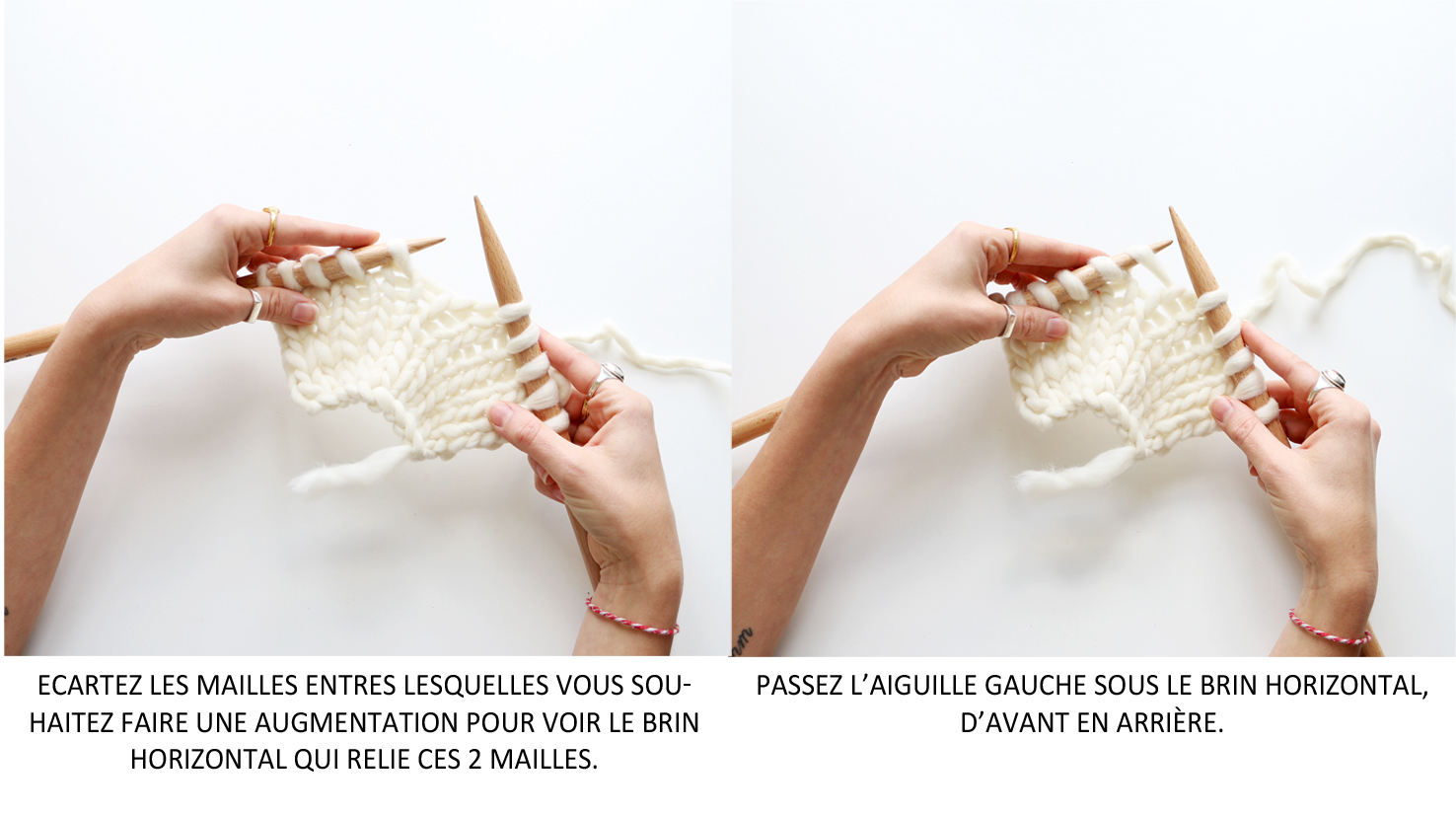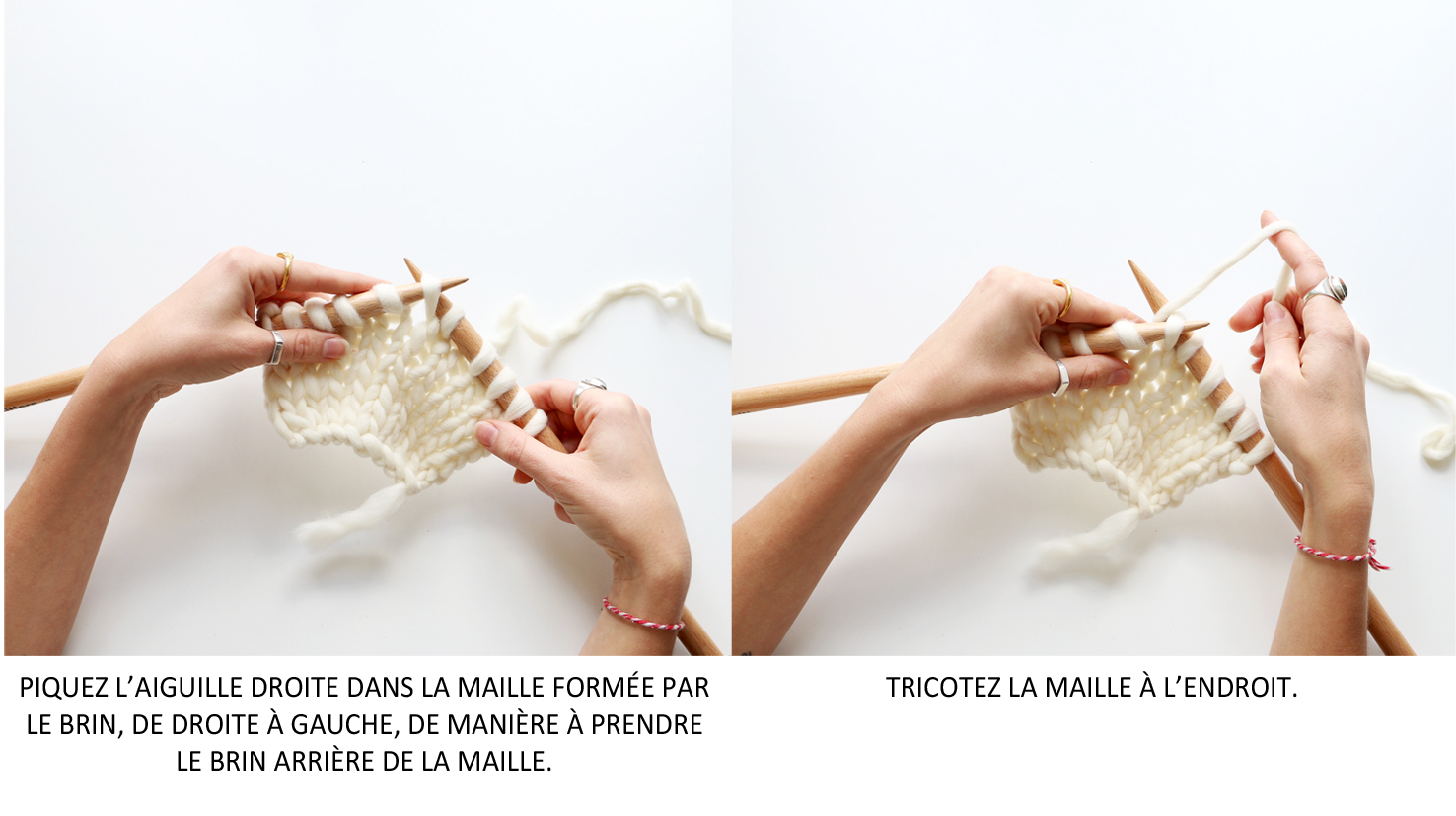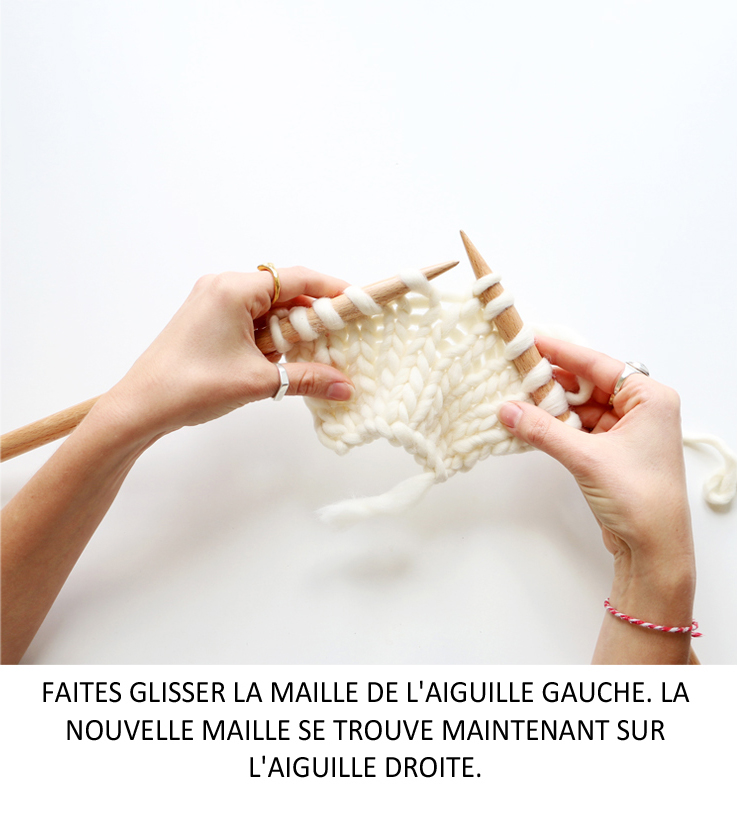 l'augmentation intercalaire torse
Ecartez les mailles entres lesquelles vous souhaitez faire une augmentation pour voir le brin horizontal qui relie ces 2 mailles.
Passez l'aiguille gauche sous le brin horizontal, d'avant en arrière.
Piquez l'aiguille droite dans la maille formée par le brin, de droite à gauche, de manière à prendre le brin arrière de la maille. L'aiguille droite doit se trouver sous l'aiguille gauche, dans le centre de la maille.
Tricotez la maille à l'endroit : enroulez le fil autour de la pointe de l'aiguille droite dans le sens inverse des aiguilles d'une montre, ramenez la pointe de l'aiguille droite vers vous, avec le fil enroulé autour, de manière à sortir l'aiguille du centre de la maille de l'aiguille gauche.
Faites glisser la maille de l'aiguille gauche. La nouvelle maille se trouve maintenant sur l'aiguille droite.
Increasing between stitches (aka « Make one »)
This technique is my favorite for increasing stitches on a row. It's simple and practically invisible.
Slightly spread the needles to find the horizontal bar between the stitches on the left and right needles.
Insert the left needle under the horizontal bar, from front to back.
Insert the tip of the right needle from right to left in the new stitch formed by the strand. The right needle should be under the left needle, in the center of the stitch.
Knit the stitch: wrap the yarn around the tip of the right needle, counterclockwise, pull the tip of the right needle through the first stitch on the left needle, towards you, with the wrap yarn on it.
Carefully slip the left needle out of the first stitch. The new stitch is now on the right needle.
Natural Wool and 15mm needles from We Are Knitters.